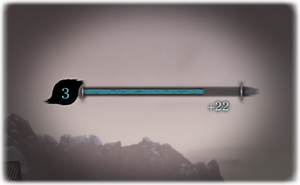 Defeating enemies awards Skill Experience. Once enough Skill Experience is obtained, a Skill Point is earned.
Half of Skill Experience and Sen are lost on death but there is a small chance for it to be kept via Unseen Aid.
Esoteric Texts provide access to various skills, which can be acquired by spending Skill Points. Later, using the Dancing Dragon Mask, Skill Points can be exchanged for an increase in Attack Power equivalent to consuming a memory.
125 Skill Points (a total of 2909961 Skill Experience) are required to unlock all the Combat Arts and Latent Skills in the game.
| | | |
| --- | --- | --- |
| Skill Points | Skill Experience Needed | Total Skill Experience |
| 1 | 500 | 500 |
| 2 | 514 | 1014 |
| 3 | 528 | 1542 |
| 4 | 542 | 2084 |
| 5 | 557 | 2641 |
| 6 | 572 | 3213 |
| 7 | 587 | 3800 |
| 8 | 602 | 4402 |
| 9 | 618 | 5020 |
| 10 | 634 | 5654 |
| 11 | 650 | 6304 |
| 12 | 666 | 6970 |
| 13 | 682 | 7652 |
| 14 | 698 | 8350 |
| 15 | 715 | 9065 |
| 16 | 732 | 9797 |
| 17 | 749 | 10546 |
| 18 | 766 | 11312 |
| 19 | 784 | 12096 |
| 20 | 802 | 12898 |
| 21 | 820 | 13718 |
| 22 | 838 | 14556 |
| 23 | 856 | 15412 |
| 24 | 874 | 16286 |
| 25 | 893 | 17179 |
| 26 | 1093 | 18272 |
| 27 | 1300 | 19572 |
| 28 | 1515 | 21087 |
| 29 | 1738 | 22825 |
| 30 | 1970 | 24795 |
| 31 | 2210 | 27005 |
| 32 | 2458 | 29463 |
| 33 | 2715 | 32178 |
| 34 | 2980 | 35158 |
| 35 | 3254 | 38412 |
| 36 | 3538 | 41950 |
| 37 | 3830 | 45780 |
| 38 | 4131 | 49911 |
| 39 | 4442 | 54353 |
| 40 | 4762 | 59115 |
| 41 | 5092 | 64207 |
| 42 | 5431 | 69638 |
| 43 | 5780 | 75418 |
| 44 | 6139 | 81557 |
| 45 | 6507 | 88064 |
| 46 | 6886 | 94950 |
| 47 | 7276 | 102226 |
| 48 | 7675 | 109901 |
| 49 | 8085 | 117986 |
| 50 | 8506 | 126492 |
| 51 | 8938 | 135430 |
| 52 | 9380 | 144810 |
| 53 | 9833 | 154643 |
| 54 | 10297 | 164940 |
| 55 | 10773 | 175713 |
| 56 | 11260 | 186973 |
| 57 | 11758 | 198731 |
| 58 | 12268 | 210999 |
| 59 | 12789 | 223788 |
| 60 | 13322 | 237110 |
| 61 | 13868 | 250978 |
| 62 | 14425 | 265403 |
| 63 | 14994 | 280397 |
| 64 | 15576 | 295973 |
| 65 | 16170 | 312143 |
| 66 | 16777 | 328920 |
| 67 | 17396 | 346316 |
| 68 | 18028 | 364344 |
| 69 | 18673 | 383017 |
| 70 | 19331 | 402348 |
| 71 | 20002 | 422350 |
| 72 | 20686 | 443036 |
| 73 | 21383 | 464419 |
| 74 | 22094 | 486513 |
| 75 | 22819 | 509332 |
| 76 | 23558 | 532890 |
| 77 | 24310 | 557200 |
| 78 | 25076 | 582276 |
| 79 | 25856 | 608132 |
| 80 | 26651 | 634783 |
| 81 | 27460 | 662243 |
| 82 | 28283 | 690526 |
| 83 | 29121 | 719647 |
| 84 | 29973 | 749620 |
| 85 | 30840 | 780460 |
| 86 | 31723 | 812183 |
| 87 | 32620 | 844803 |
| 88 | 33532 | 878335 |
| 89 | 34460 | 912795 |
| 90 | 35403 | 948198 |
| 91 | 36362 | 984560 |
| 92 | 37336 | 1021896 |
| 93 | 38326 | 1060222 |
| 94 | 39332 | 1099554 |
| 95 | 40354 | 1139908 |
| 96 | 41392 | 1181300 |
| 97 | 42446 | 1223746 |
| 98 | 43516 | 1267262 |
| 99 | 44603 | 1311865 |
| 100 | 45707 | 1357572 |
| 101 | 46828 | 1404400 |
| 102 | 47965 | 1452365 |
| 103 | 49119 | 1501484 |
| 104 | 50290 | 1551774 |
| 105 | 51479 | 1603253 |
| 106 | 52685 | 1655938 |
| 107 | 53908 | 1709846 |
| 108 | 55149 | 1764995 |
| 109 | 56407 | 1821402 |
| 110 | 57683 | 1879085 |
| 111 | 58977 | 1938062 |
| 112 | 60290 | 1998352 |
| 113 | 61620 | 2059972 |
| 114 | 62969 | 2122941 |
| 115 | 64336 | 2187277 |
| 116 | 65722 | 2252999 |
| 117 | 67126 | 2320125 |
| 118 | 68549 | 2388674 |
| 119 | 69991 | 2458665 |
| 120 | 71452 | 2530117 |
| 121 | 72932 | 2603049 |
| 122 | 74431 | 2677480 |
| 123 | 75949 | 2753429 |
| 124 | 77487 | 2830916 |
| 125 | 79045 | 2909961 |
| 126 | 80622 | 2990583 |
| 127 | 82220 | 3072803 |
| 128 | 83837 | 3156640 |
| 129 | 85474 | 3242114 |
| 130 | 87132 | 3329246 |
| 131 | 88809 | 3418055 |