In-Game Description
Items that become unavailable elsewhere end up in the Offering Box.


When the box is illuminated, it means an item has found it's way inside.
Items can be obtained by inspecting the box and offering money.
Overview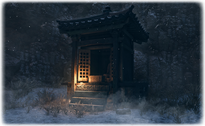 The Offering Box is a shrine where unique items dropped by Mini-Bosses or sold by Merchants are found, in case their original holders have disappeared from the game.
If the box is shining, there's something to buy inside.
To acquire these items, Wolf needs to spend a conspicuous amount of Sen.
Hanbei's Dialogue
Talking
Hanbei: Have you noticed... This temple attracts those with nowhere else to go. I certainly fit that description. And I suppose that's why... Interesting things make their way into the offering box from time to time.
Location
Drifted Items
Notes