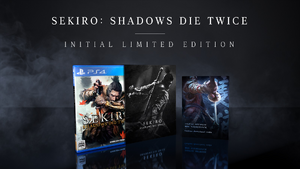 The music of Sekiro: Shadows Die Twice was composed by Yuka Kitamura. She previously worked on the Dark Souls series and Bloodborne.[1]
The team of FromSoftware received core concepts from Hidetaka Miyazaki for the music. Sekiro is set in the Sengoku era (1467 – 1600 CE). This was a very violent period of conflict between warring states in Japan. Sengoku was a time of battlefields and war. It's not a noble knight in shining armor type of battlefield. Yuka explained it's a "really horrible, mud-streaked, blood-soaked battlefield". The major themes are a period of ruin and despair. At the same time there's "ancient Japanese beauty and a sort of time-honored tradition and religious aspects that came into the music" that added breath to the soundtrack.[1]
They thought about the culture of that period such as an esoteric Buddhist approach. They used a lot of live recordings of Japanese instruments such as the Shinobue (Japanese flute) and other instruments such as violins, cellos and vocals. The Taiko, a large Japanese drum, was used as a baseline for composition. She also worked with external composers who had their own unique take on the themes. Yuka thought the setting felt refreshing and restricting. They wanted to make it mostly Japanese flavored with little western influence. While working on the music Yuka found new ways to express herself with the Japanese style. That made it more refreshing and provided stimulus.[1]
Sekiro: Shadows Die Twice (Soundtrack)
Mini-Soundtrack
The digital mini-soundtrack has five songs.
00:00 Sekiro (The One-Armed Wolf)
01:16 Ashina Clan
03:23 Strength And Discipline
06:08 The Phantom Lady Butterfly
09:33 Genichiro Ashina
Full Soundtrack
The full soundtrack has these songs.
00:00:00 Sekiro, The One Armed Wolf
00:04:26 Emma The Physician
00:07:56 Ashina Reservoir
00:09:50 Divine Heir Of The Dragon's Heritage
00:20:56 Genichiro Ashina
00:24:16 Scupltor Of The Dilapidated Temple
00:26:38 Ashina Outskirts
00:29:10 Strength and Discipline
00:38:49 Hirata Estate Dragonspring River
00:41:09 Approaching Forces
00:44:56 The Phantom Lady Butterfly
00:58:50 Senpou Temple, Mt. Kongo
01:04:34 Folding Screen Monkey
01:08:50 Children Of Rejuvenation
01:31:46 Fountainhead Palace
01:36:14 Great Coloured Carp
01:39:06 The Old Dragons Of The Tree
02:01:39 End Of A Vicious Struggle
Videos
References
Community content is available under
CC-BY-SA
unless otherwise noted.