Where you find the departed, you'll find the Memorial Mob.
Overview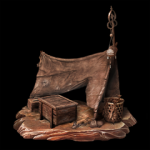 The Memorial Mob (供養衆, The Many of the Memorial Service) is a group of merchants who sell the items they pillaged from corpses as offerings to the dead.
According to Shintoism, death is a cause of pollution and the people who thrive in it are the most "impure" of all, as their souls are tarnished by its filthiness.
They're found throughout all of Ashina.
Known Members:
Notes
Meeting them and purchasing certain items from these merchants are necessary steps to unlock the following Trophies:
Memorial Mob
Peak Physical Strength
All Prosthetic Tools
Master of the Prosthetic
Ultimate Healing Gourd
Trivia
Fujioka the Info Broker was once part of the Memorial Mob.
The japanese name is composed of 供養 meaning "memorial service for the dead" and 衆 indicating "a great number of persons".
Gallery