| | |
| --- | --- |
| A purse filled with a large amount of sen. It can be used to acquire the sen inside. Its weight is very promising indeed. The sen in the purse is not lost upon death. | |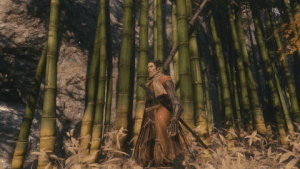 Using this item allows for storing 500

500 that are not lost on death, making them a good method of storing sen until they're needed.
Can be sold to merchants for 500

500.
Up to 99 can be carried.
Gallery
Locations
Ashina Outskirts

In the ruined house in the courtyard after the Castle Gate Fortress Sculptor's Idol.
(After Invasion) In the indoors building above Shigekichi, in the room on the left.

Ashina Castle

Next to the chest that contains Gyoubu's Broken Horn.
Near the Secret Passage in the Ashina Reservoir.

Abandoned Dungeon

Just through the entrance from Ashina Castle, under a cart.
Two near the Headless in the Ashina Castle pond.

Senpou Temple

On a ledge to the right from the first building, reachable by grappling onto a tree branch.
On a ledge to the left, instead of going up to the area where where the Armoured Knight can be challenged.
On a statue in the small building, reached from where the Pure White Pinwheel is located.
To the right from the main path leading down from the Temple Grounds.

Sunken Valley

In the room leading towards the Gun Fort Sculptor's Idol.
In the poison pool area in Riven Cave on a small island at the end.

Ashina Depths
Fountainhead Palace

In an open, watery courtyard surrounded by Palace Dogs.
By the roots of the Great Sakura.
On a broken bridge on the Feeding Grounds.