In-Game Description
Memories left behind by another.

Concentrate on this memory at a Sculptor's Idol to rever the Wolf to his original appearance. Has no effect on ability.

The memory of the Tengu of Ashina. It is accompanied by a strong desire. If you see a rat, it must be killed.
Availability
Overview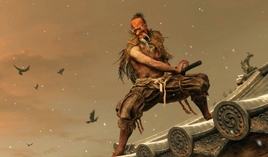 Allows to "Change Form" at any Sculptor's Idol with the costume that Isshin Ashina wears when he patrols Ashina Castle, hunting down "ministry rats".
Possesses no special effects.
Notes
Introduced with Patch 1.05.
Defeating Owl (Father) and completing any ending is necessary to unlock the Gauntlet of Strenght: Severance.
Gallery