In-Game Description
Memories left behind by another.

Concentrate on these inmost regrets or obsessions at a Sculptor's Idol to change the Wolf's appearance. Has no effect on ability.

The memory of a shinobi that once served Ashina. It is accompanied by a debt of gratitude; to the one who took his arm and graced him with the name Sekijo.
Availability
Obtained after the end credits, once the final boss of any ending is defeated.
Overview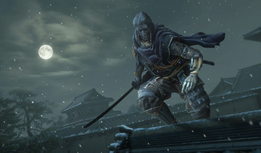 Allows to "Change Form" at any Sculptor's Idol with the armor that the Sculptor used to wear when he was the shinobi known as "Orangutan".
Possesses no special effects.
Notes
Introduced with Patch 1.05.
Gallery